In the new musical Hands on Hard Body, things aren't getting any better for ten Texans each of whom needs something positive to occur in his/her life. Each is given a chance in a contest to turn their lives around. But there will be only one winner. Will it be fate, strength, smarts or trickery that finally pays off in Hands on Hard Body?
Synopsis
In the musical Hands on Hard Body, ten Texans who are down on their luck have the opportunity to win a brand new truck. The competition involves keeping one hand on the truck at all times. Each one desperately needs to win this vehicle that can change their lives.
Told with humor, wit and warmth Hands on Hard Body is a musical focusing on hope and ambition. Who will you root for and who will finally take home the grand prize after days of baking under the high, simmering Texas sun?
MAKE A CONNECTION
SHOW FACTS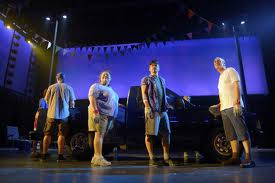 J D Drew Keith Carradine
Kelli Mangrum Allison Case
Benny Perkins Hunter Foster
Greg Wilhote Jay Armstrong Johnson
Chris Alvaro David Larsen
Ronald McGowan Jacob Ming Trent
Heather Stovall Kathleen Elizabeth Monteleone
Virginia Drew Mary Gordon Murray
Mike Ferris Jim Newman
Cindy Barnes Connie Ray
Jesus Pena John Rua
Norma Valverde Keala Seattle
Janis Curtis Dale Soules
Frank Nugent Scott Wakefield
Don Curtis/Dr. Stokes William Youmans
Creative
Music Trey Anastasio and Amanda Green
Lyrics Amanda Green
Book Doug Wright
Director Neil Pepe
Choreographer Sergio Trujillo
Set Designer Christine Jones
Costume Designer Susan Hilferty
Lighting Designer Kevin Adams
Sound Designer Steve Canyon Kennedy
---
For a Theatre Profile, Seating Chart and Google Map click on the theatre name.
THE BROOKS ATKINSON THEATRE
256 West 47th Street
New
York, NY 10036
Preview: Feb 23, 2013  Open: Mar. 21, 2013  Status: Closed Apr. 13, 2013