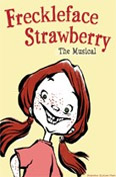 This is a charming new musical about a seven-year-old girl who is teased by her classmates because she has freckles and red hair. Based on Julianne Moore's book of the same name, Freckleface Strawberry is a play about being different and what that really means. A great musical for the entire family, you'll be entertained and uplifted by this beautiful story of simple acceptance and confidence.
Synopsis
Just about every kid feels it at one time or another. They don't fit in because they're different and the other kids are sure to point out what makes them that way. In this new musical, the lead character Strawberry finds herself at odds with her classmates and herself as they tease and humiliate her because she has freckles and bright red hair.
Strawberry reverts to various tactics to ensure that the other children will finally accept her. She tries to scrub her freckles away, but it doesn't work. She then attempts to hide who she is by wearing a ski mask to school. But in this 90-minute musical, Strawberry eventually realizes that everyone is different in one way or another. She learns to accept her individuality and uniqueness. This is a fun and touching evening in the theatre that parents can enjoy with their kids. This show is a pure treat.
Show Facts
Based on the book by Julianne Moore
Adapted by Rose Caiola and Gary Kupper
Music and Lyrics Gary Kupper
Director Buddy Crutchfield
Choreographer Gail Pennington Crutchfield
Set Designer Beowulf Boritt
Costume Designer Fabio Toblini
and Holly Cain
Lighting Designer Jason Kantrowitz
Cast
Strawberry Hayley Podschun
Group price range
Preview Date
Opening Date
Handicap Accessibility
Hearing Impaired Audibility
Setting Capacity
Running Time, w/ Intermissions (none or 1)
Show Links, On Line Toolboxes, etc.
Awards
Educational Link