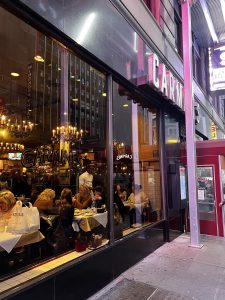 If interested in great Italian food that is served quickly and efficiently, Carmine's is an excellent choice. The dining room's high ceiling is dotted with fans, chandeliers, and art deco fixtures. The room is spacious, and well-lit, and includes large and small tables. Family-style lunches and dinners are served daily.
Offering both variety and value, the Express Menu allows you to choose your pasta, entrée, beverage, and dessert.
The lunch and dinner menus include appetizers, pasta, entrées, dessert sampler, and beverage. While the Lunch menu offers more choices than the Express menu, the Dinner menu is brimming with even more choices. There are numerous appetizers, including Zuppa di Clams and Carmine's Salad. Entrées include Eggplant Parmigiana, Chicken Marsala with mushrooms, Salmon Oreganato, and Sausage, Peppers, Onions, and Potatoes (an old Italian favorite).
The food is delicious and plentiful and the service is friendly. If you're headed to a midtown theatre after dinner, you'll need to leave some extra time since Carmine's is in the 90s. This is a quality dining experience and a fine prelude to the theatre.