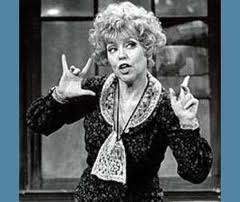 For student groups, Annie deals with one topic that is very important, bullying. All Tickets, which has student discounts and COMPS, offers insights into Annie and bullying. Use this blog to help establish some specific topics for classroom discussion, including preshow questions and follow up questions.
What is Bullying?
Bullying occurs when a person or a group uses their power over another person in a manner that humiliates and degrades them. It is an abuse of power. It can include physical and/or psychological violence. Bullying has both short-term and long-term effects. It's such a serious matter that the U.S. government has created a website devoted to the topic that includes information on how to recognize and stop it. Those involved in bullying can face severe penalties.
Miss Hannigan and Rooster
The primary bully with whom Annie must deal is the orphanage matron Miss Hannigan. Hannigan dislikes all little girls but she finds Annie to be especially unlikeable. Why? Along with being very frustrated and unhappy with her life Hannigan sees someone like Annie as a threat to her because people like the little, streetwise orphan.
Hannigan gets pleasure from mistreating the orphans. She punishes them needlessly, makes them do her work and berates them. As far as Annie is concerned, the orphanage matron uses everything in her power to control and even harm her because she knows that Annie has the drive and smarts to expose her abuses.
http://www.youtube.com/watch?v=mMTcQnmWut8&feature=plcp&list=PL9C22BDD46B7FC5E4
Bullies Hannigan and Rooster are looking to be on Easy Street in the musical ANNIE.
It makes sense that then another bully in the musical Annie would be related to Hannigan. Rooster, who is Hannigan's brother, is a tough guy who is willing to do what it takes to control others. He's devious and manipulative and uses his brain (which is fairly limited) to concoct a plan that will exploit Annie's dearest dream—locating her real father and mother and living in a happy home.
Is Daddy Warbucks a Bully?
Student groups who see the Broadway production may wonder if Daddy Warbucks is a bully. He has a lot of bark but not very much bite. Physically, intellectually and monetarily, he's a very powerful man but he never abuses that power. When he "acts" mean, it's actually a defense mechanism, as he doesn't want Annie and others to see him as being weak. He has a soft spot in his heart for the little girl and starts to envision her as the daughter he never had. That scares him. But he never uses his power to degrade, manipulate or hurt Annie. He's no bully. Daddy Warbucks is a creampuff of sorts and a loveable one at that.
Looking at Bullying
When considering if someone is a bully in Annie or in real live take some time to think about and discuss the following:
Are their actions harmful to others?
Are they abusing their power and controlling and harming those who are weaker?
Is physical and/or psychological abuse used?
What's the intention of their actions and the results?
For those being bullied, start by thinking about the following questions:
In what way are they vulnerable?
What are the bulling actions they are encountering?
What's the effect of these actions?
What can they do to stop these actions?
These are basic questions that can be developed further once you see the play. Answers will be contingent upon the writing, physical movement and the manner in which the characters are interpreted by the actors and director.
Understanding Bullying Through Writing
Writing about something can really help put it in perspective. A few months ago All Tickets had the chance to sit down and discuss this important topic with Oscar winning writer Bruce Joel Rubin (Ghost and Ghost The Musical). Take a moment to view the writer in the clip below where he discusses a writing exercise on bullying that can be used in the classroom and lead to further discussion and understanding of this topic.
[vimeo vimeo.com/39122707]
Annie and Matilda
The character Matilda, like Annie, must deal with bullies. In the end, both girls a triumphant and are able to escape from their abusers. As we noted in our blog on bullying in Matilda, the young girl is able to be victorious over others by enlisting the help of an adult. Annie, to a degree, does the same thing.
All Tickets has low prices on student tickets for Annie and also Matilda and a special COMP EVENT. Annie, like Matilda, has numerous important themes and bullying is one of them. For more information on Annie or Matilda and our special COMP offers call 800-922-0716 or link to us here.