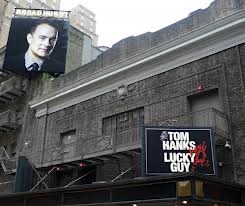 Looking for Broadway discount tickets to a hot new play? This year's Tony play nominations include some great shows that are still running. Here's a look at the shows nominated for Best Play.
Lucky Guy
The late Nora Ephron offers us insights into Pulitzer Prize winning reporter Mike McAlary in her play Lucky Guy. It is Ephron's last play and it marks Tom Hanks Broadway debut. The production is masterfully directed by Tony-winning director George C. Wolfe. Lucky Guy offers a crafted and deft portrait of the complex and driven McAlary whose career was a rollercoaster ride that ended with his untimely death from colon cancer on Christmas Day, 1998.
McAlary, who almost lost his career as a reporter when he was sued for libel, won the Pulitzer Prize for his reporting of the Abner Louima case. Louima was a Haitian living in NYC who was arrested outside a Brooklyn nightclub in 1997. McAlary broke open the story concerning New York City police officers who abused and forcibly sodomized Louima with the handle of a toilet plunger. Hanks is nominated for a Tony.
The Assembled Parties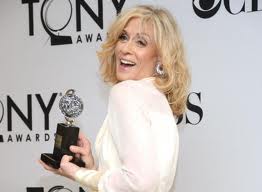 The Assembled Parties stars former Tony nominee Jessica Hecht and Tony winner and present nominee Judith Light. The play takes us into the home of former movie star Julie Bascov (Hecht) and her sister-in-law Faye (Light). The two seem to have happy lives. But then The Assembled Parties, which spans 20 years, offers a complication that intensifies the family drama. It's a guest who turns things upside down as he accidentally or perhaps purposefully insinuates himself into the family drama. Will the apparently accomplished and happy Bascov family see its peaceful world fall to pieces?
The Testament of Mary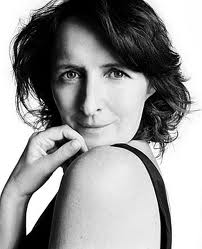 Starring Fiona Shaw as Mary the mother of Jesus, The Testament of Mary by Colm Toibin takes place in Ephsesus after the crucifixion. Mary, who is living under guard, is pressured by two of Jesus' followers to help them with their quest to write about her son's work.
The Testament of Mary offers a new vision of Jesus' mom, who is filled with doubt, brimming with independence and occupied by free thought. She is her own person who knows Jesus in ways no other person has or ever will. Mary is portrayed as a mother who has suffered a great loss and who must contend with men who would like to create a story about her son that she finds to be inaccurate at best. The Testament of Mary, which is an adaptation of the playwright's short novel publish in 2012, offers a unique vision of the mother of Jesus, while raising questions about faith, history, gender and power.
Vanya & Sonia & Masha & Spike
Vanya and Sonia and Masha and Spike is defined by Christopher Durang's unique comic vision. The comedy is a union of Chekov and Greek mythology. As it is in Chekhov's plays, life is filled with misery, regret and depression, and as it is in Durang's plays, the characters live in is strangely defined world that's made up of classical references, pop culture and hedonism. The farm will never be the same after the arrival of Masha and Spike, the libidinous couple, as Vanya and Sonia and Masha and Spike takes us down roads rarely travelled. David Hyde Pierce, a past Tony winner, is nominated for the award this year. Also nominated for their performances are Kristine Nielsen, Billy Magnussen and Shalita Grant.
See this Year's Best Broadway Plays
You can still see three of the four Tony- nominated plays on Broadway at group discount prices, as Lucky Guy, The Assembled Parties and Vanya & Sonia & Masha & Spike are still running. The Testament of Mary has closed. Contact All Tickets Broadway group sales for discount tickets at 800-922-0716 or query us via the Internet.