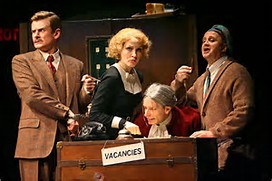 The Tony Award wining mystery comedy The 39 Steps will be Off-Broadway starting April 1, 2015 with the official opening set for April 13. This will be an open-ended run at the Union Square Theatre (100 East 17th Street).
The Show
The 39 Steps is the ultimate madcap spy story that is simply hilariously outrageous. Based on the novel by John Buchnan, this homage to the classic Alfred Hitchcock film of the same title is a riotous romp that utilizes 4 actors playing over 150 roles. Inventive, fast-paced, hilarious, and thrilling, The 39 Steps, which is set in England and Ireland in the 1930s, is a fantastic play for groups wanting an evening that is completely entertaining and engaging.
Original Creative Team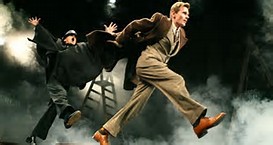 The group that first created the amazingly popular show is back for this production. The 39 Steps, which was adapted by Tony nominated author Patrick Barlow from an original concept by Simon Corble and Nobby Dimon, and is based on the book by John Buchan and the classic 1935 Alfred Hitchcock film, includes in its creative team Maria Aitken (Tony nominated for direction). Also onboard is Tony winning lighting designerKevin Adams, Tony winning sound designer Mic Pool, and Tony nominated scenic and costume designer Peter McKintosh.
The cast includes original Broadway cast member Arnie Burton as Clown #2 and Billy Carter as Clown #1. Plus Broadway veteran actor Robert Petkoff will play the handsome hero Richard Hannay, and Brittany Vicars, who makes her New York City stage debut, will appear as Pamela/Annabella/Margaret.
Performance Schedule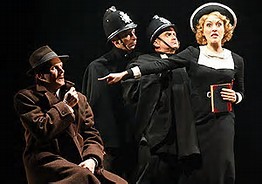 The performance schedule for The 39 Steps is Mondays at 7:00 PM, Wednesdays at 2:00PM and 8:00 PM, Thursdays and Fridays at 8:00 PM, Saturdays at 2:00 PM and 8:00 PM, and Sundays at 3:00 PM. Tickets are priced at $39-89. Premium seats are $105. There are special rates available for various groups, including students. Contact a licensed NY group ticket sales agent for best deals and associated promotions.