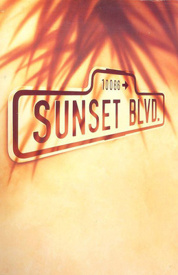 In November of 1994, Broadway welcomed an incredible cast to the Minskoff Theatre. Alice Ripley, Glenn Close, George Hearn, and Alan Campbell made up some of the dynamite cast. With music by Andrew Lloyd Webber, a book by Christopher Hampton and Don Black, and direction by Trevor Nunn, the show ran for three years and won the 1994 Tony for Best Musical. Glenn Close's performance won her a Outer Critics Circle Award, a Drama Desk Award, and the Tony for Best Actress in a Musical! This February, Close will be reprising her role as Norma Desmond in, you guessed it, Sunset Boulevard.
"As If We Never Said Goodbye"
Broadway has changed since 1994, but Close is sure to dominate the stage once more as if she never left the production. There is plenty of documentation online that shows just how incredibly she played her role. The part of Norma was played by Betty Buckley, Patti Lupone, and Elaine Paige in its initial runs in London, so clearly the part calls for a lot of drama and vocal agility.
Sunset Boulevard is based on a film of the same name, directed by Billy Wilder from 1950. As Norma Desmond, Close plays an "over-the-hill" actress who once had success in silent films. Joe Gillis, a rejected screenwriter meets Norma and she tries to get him to back the screenplay she has written to pitch to Paramount Studios. Norma takes Joe as her pet, but the need for fame and love breaks everything apart. *No spoilers!*
Casting and Production Dates
Casting besides Close's return to the show has not been officially announced. However, the production is set to premiere on February 2nd at The Palace Theatre on 1564 7th Ave & W 47th Street. Prior to Sunset Boulevard, The Illusionists will be opening at the same theatre on November 28th bringing golden age magic to Broadway until January 1st!
For more information on casting, keep watching the news on Playbill.com! If you want to see highlights from Glenn Close in the original Broadway production, check out this video we found on YouTube that shows why she earned all of those awards!