Ian McKellen and Patrick Stewart will be on Broadway soon in the Samuel Beckett play Waiting for Godot. McKellen and Stewart played Godot in London in 2009 and will be reprising their critically praised performances along with starring in rep in Harold Pinter's No Man's Land.
If there's a classic piece of absurdist theatre it is Waiting for Godot. It is the play that spawned a new type of theatre in the post-World War II era and its influence on playwrights, including Pinter, can't be denied. It's a fantastic play for the two to star in. In London, the run sold out.
Godot Cast Complete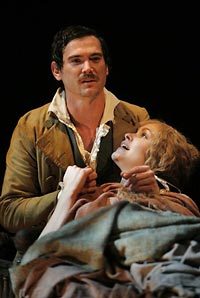 The Broadway cast is now complete for Waiting for Godot in which Stewart will star as Vladimir and McKellen will star as Estragon. Added to the cast is Billy Crudup (Tony for Coast of Utopia), who will play Lucky, and Shuler Hensley (Tony for Oklahoma!), who will play Pozzo. Both Crudup and Hensley will star with the two international stars in No Man's Land.
Godot Speaks to Us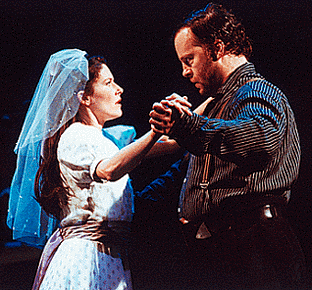 Sixty years after its world premiere at the Théâtre de Babylone, Paris, 58 years after it first appeared on the British stage, and 57 years after the initial American production at the Coconut Playhouse in Florida, Waiting for Godot, which was misunderstood by many when it first premiered, is now seen as a world classic. It calls for each role to be played with virtuosity as the performers are asked to create characters with souls and depth all of whom appear to be living in a world that has neither a soul nor any depth.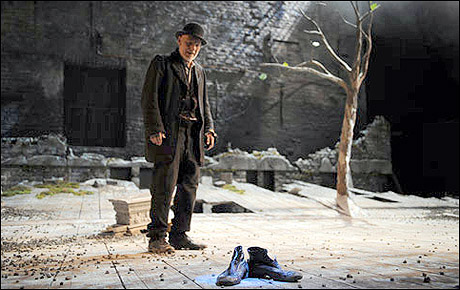 Waiting for Godot is at times hilarious and at other times hopeless. The desolate setting, which is composed of a mound, a tree, and a crossroads, seems to be nowhere and yet represents everywhere. In Act I, Vladimir and Estragon play out their day and make their way into an evening that seems to offer the possibility of good news as they are visited by two men, Pozzo and Lucky, and at the end of the act by a boy. By the end of Act I, the possibility of good news turns into disappointment. The next day (or is it the next day?), which is Act II, the same basic action plays out once again.
Revelatory, heartbreaking, whimsical and desultory, Waiting for Godot is as complex, emotional, perplexing, and frustrating as life itself. It is also, when all is said and done, amazingly entertaining.
Limited Run
The limited run with McKellen, Stewart, Crudup, and Hensley previews October 26, 2013 and opens November 24, 2013 at the Cort Theatre. This is a once-in-a-lifetime opportunity to see two of the greatest actors of our time in a true masterpiece. For more information on Broadway group discounts for Waiting for Godot and No Man's Land contact All Tickets Inc. at 1-800-922-0716. This is a golden opportunity you won't want to miss.