Audiences find The Marvelous Wonderettes offers a great evening of theatre, as the show is upbeat, funny, and completely entertaining. Parties who participate in The Marvelous Wonderettes group discount tickets program enhance their experience by being able to share the experience of this show before, during, and after the performance. This musical is perfect for groups looking for a positive, feel-good show that offers insights into who we were in the 1950s, and how we changed in the 1960s.
Innocence- 1950s vs. 1960s
Part of the reason The Marvelous Wonderettes group discount tickets program is popular with audiences of all ages is that the musical has a sense of innocence, mirroring a feeling that seemed to pervade the 1950s, which is when the first act is set. (For more on this musical's sense of innocence, read our previous blog!) That seems to have been a simpler period, and for many audience members, it's a nostalgic time. The four characters who make up the Wonderettes, Betty Jean, Cindy Lou, Missy, and Suzy, embody the simplicity of the time.
Act two, which takes place in 1968 during the 10-year Springfield High School reunion, is also defined by innocence, but it's a different kind of innocence. The four ladies who are The Marvelous Wonderettes have gone through many changes since they were in high school, and so too has the U.S. These changes are reflected in the stories of the four women's lives, their relationships on and off stage, and the music that they sing. This period, although seen by many as being more complicated, is also filled with nostalgia.
Lesley Gore – It's My Party
Singer Lesley Gore, who has three of her songs featured in the second act of the musical "Maybe I know," "It's My Party," and "You Don't Own Me"), may very well define this new innocence. It's one in which many female singers end up telling it like it is. They define the realities and difficulties of being in love and decide how they will make their stand. The women are saying they are strong enough to weather the emotional storm in which they find themselves, or they're contemplating independence, or they're devoted to becoming independent. Where these songs are concerned, the innocence isn't about the simplicity of life, but rather, that the simple solutions offered in the lyrics will be easy to achieve.
"Maybe I Know" is a song in which the singer knows the man she loves is cheating on her, but she believes that "deep down" he loves her and she hopes that one day he will "settle down." It's a simple solution to a complex problem. In "It's My Party," the singer, who's in the midst of her birthday party, is in love with Johnny, and he's supposed to be in love with her, but he's managed to disappear from the party and Judy, whose hand he was holding, is gone too. At the end of the song, they come back to the party and are engaged. This is a tune about being completely open with your emotions.
"You Don't Own Me" features a very strong character, as the singer proclaims to the man she is seeing that she knows she's just one of his "many toys," and that means that she will be who she wants to be and do what she wants to do. In other words, he's one of her toys too. Of the three Gore numbers in The Marvelous Wonderettes, this offers a vision of a woman who's decided that she gets to play by the same rules to which men have access.
Feel-Good Future
If groups find The Marvelous Wonderettes offers great party feelings, what sort of feelings are they exactly? About what type of party are we talking? What do those who participate in The Marvelous Wonderettes group discount tickets program get from this musical? Unlike the party in "It's My Party," the celebration offered by The Marvelous Wonderettes is optimistic and includes, ultimately, a happy ending. By the end of the musical, the four characters still have their challenges, but they are also ready to take them on and move forward.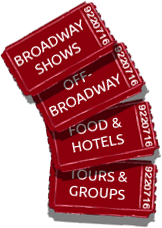 Contact us today for group tickets to The Marvelous Wonderettes, offering audiences a fantastic musical theatre experience at a great price. Group ticket prices are just $45 per person and a group can be a few as eight people! We make it easy for you to secure your great group ticket rate.
For group sales, email either janet.robinson@jrgroupsales.com or info@allticketsinc.com or call 212-362-5797 or 800-922-0716. Performances are at Theatre Row, Kirk Theatre, 410 W. 42nd St., NYC 10036 on Wednesdays at 2:30 p.m. & 8:15 p.m., Thursdays at 8:15 p.m., and Sundays at 3:00 p.m.