The holiday season seems to sneak up on us every year. Even if we aren't ready when it comes, we submit to celebrating by watching holiday films, singing carols, and investing in tickets to the theatre or ballet. Today, we're talking about those holiday theatre traditions you can travel to NYC to see as well as national tour of shows that may be performing in your native state!
A Holly, Jolly Christmas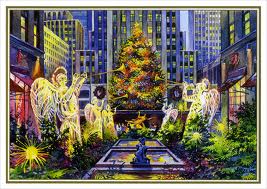 If you've got the funds to head to New York City this December, there are a couple performances you shouldn't miss. If you got to see the Rockettes at the Macy's Thanksgiving Day Parade this year, then you know you should go see The Radio City Christmas Spectacular. This year's performance was the best I've seen on the television special in years. Besides the spectacular, take a visit to The New York City Ballet to see George Balanchine's The Nutcracker. These locations are pretty obvious ones for tourists but if you haven't seen them yet, they're a no brainer.
At Your Own Front Door
Two of the biggest national tours for the holidays will be circulating as late as December 31st. Whether you're a youngster or just young at heart, you'll enjoy the live performances of Elf the Musical and Rudolph the Red Nosed Reindeer on tour. These productions are going to many cities around the country. Check out the hyperlinks to see if there is a production near you!
There's No Place Like Home for the Holidays
If you aren't planning on going to NYC or driving to a packed theatre to see a productions, there is another live event to consider. On December 17th at 7:00pm eastern time, A Christmas Story the Musical will be live on the Fox Network. The musical stars Matthew Broderick, Maya Rudolph, Jane Krakowski, Chris Diamantopoulos, and Ana Gasteyer. Fix your own snacks and set your family up in front of the television to witness this holiday event!
What other holiday entertainment events is your family looking forward to this December? Tell us on Twitter @AllTicketsInc!