Chicago group sales are hot as Broadway comes back! Along with Chicago, which is one of Broadway's most popular musicals, groups can presently enjoy other great shows. Currently running are Waitress, The Lion King, Hamilton, and Wicked. These well-known shows are offering fantastic group prices. Looking for a night out for your theatre group? We can help you make it a reality.
Hit Shows
Long Running Hit!
Chicago – With music by John Kander, lyrics by Fred Ebb, and book by Ebb and Bob Fosse, this salty, sweet, brash, brassy, and sensuous musical takes us to 1920s Chicago, telling the story of two incarcerated vaudeville lovelies, Velma and Roxie. After finding her husband in bed with her sister, Velma kills both. On the other hand, Roxie is in the slammer for taking down the man she's cheating with on her husband. Both are doing time. In order to persevere, both woman use every talent, skill, and move they possess to make a comeback. And, all while behind bars.
Innovative and Insightful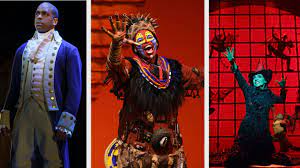 Hamilton – When Hamilton hit Broadway in 2015 it was already a hit due to its successful run at the Public Theater. The brainchild of Lin-Manuel Miranda, who also starred in the original production, this rap/hip-hop/sung musical tells the story of founding father Alexander Hamilton and his ambition, intelligence, ego, and legacy in relationship to the founding of the United States of America. As a result, this is a truly insightful experience.
Family Entertainment
The Lion King – Based on the 1994 Disney animated film of the same name, this musical features music by Elton John, lyrics by Tim Rice, and book by Roger Allers and Irene Mecchi. The Lion King is the story of the young heir to the throne, Simba, whose life is drastically altered when Scar, his uncle, kills his father, King Mufasa.  Consequently, Simba's journey to reclaim the throne is exciting, touching, and exhilarating. As a matter of course, this is a great family show.
Uplifting
Waitress – This show is based on the 2007 film of the same name. Waitress has music and lyrics by Sara Bareilles and book by Jessie Nelson. This musical tells the story of Jenna Hunterson, a talented baker and hardworking waitress.  Jenna wants a way out of her abusive marriage. But when she unexpectedly becomes pregnant by her husband, Earl, she copes with the changing currents of her life by finding hope through a new doctor in town and the promise of a better future through a pie baking contest. Thus, this heartwarming musical celebrates motherhood, friendship, and self-determination.
Family Favorite
Wicked – This musical tells the story of Elphaba (the Wicked Witch of the West) and Galinda (later known as Glinda the Good Witch). With music and lyrics by Stephen Schwartz and book by Winnie Holzman, Wicked focuses on the rivalry and relationship between the two witches. Wicked is about power, family, and interconnection. It asks us to consider whether good and evil are to some degree a matter of perspective. This is a winning show that's perfect for the family.
Chicago Group Sales – Great Deals for This and Any Musical
If you're interested in Chicago group sales or group tickets for any of these musicals, this is a great time to check out our special prices. As Broadway gears up, the desire and competition for tickets will increase. Consequently, we feel this is prime time for deals. Plus, if you'd like to include lunch or dinner, a tour of NYC, or another event, we can create an attractive, personalized group package.
Contact ATI Now – Fantastic Group Sales and Deals
There's no hard sale here. These shows and NYC experiences sell themselves. As already noted, Chicago group sales are healthy, as are those for other hit Broadway musicals.  Contact All Tickets Inc. today at 1-800-922-0716 to find out more. We will individually craft the New York experience that you desire and at a great price.
If you're looking to see a new play or musical, we're standing by to assist you. We'll ensure every aspect of your group experience exceeds your expectations. Additionally, for more information regarding contacting us, please follow this link.