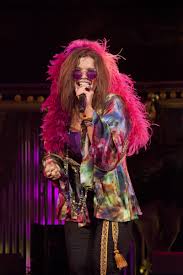 A Night with Janis Joplin is coming to Broadway. Broadway group sales, discounts and special deals to see Mary Bridget Davies as Janis Joplin are being finalized as the new show preps for Broadway this fall. Joplin was a Southern Comfort drinking, passionate, enigmatic performer who redefined the female voice in the world of rock n' roll. No other woman has come close to doing what she did in such a short time. Her genuine personality, rough, unpolished manner and voice and take it to the limit performances were groundbreaking.
Turbulent Era
Joplin was part of the '60's counterculture that bewildered and worried parents, upset the establishment and created a generation that espoused something they didn't understand- free love. The decade of the 1960s was a turbulent one for sure. Assassinations, the Vietnam War, student protests and Civil Rights marches were a part of the era during which the U.S went through incredible growing pains that would redefine the country.
Icon of the Times
jy
Joplin- "Summer Time" from the Album Cheap Thrills recording session.
Broadway group sales for A Night with Janis Joplin will partly be fueled by those who remember the performer. Rock enthusiasts will want to see the event and Broadway group discounts will certainly be attractive to those who want to enjoy the acclaimed performance by Mary Bridget Davies. If you're into rock, cultural, American history, the '60s, or bigger-than-life personalities, the A Night with Janis Joplin should be on your list of "must see" shows.
A Night with Janis Joplin
The performance of Mary Bridget Davies and the show itself, which is written and directed by Randy Johnson, have garnered great notices. These include the three below from the Milwaukee, Washington, D.C. and Los Angeles productions.
"When Davies begins to sing – with an assaultive and explosive wall-of-sound wail, bent on filling an inner void that seems to stretch forever – one could be listening to Joplin, in those moments when her unfathomable pain somehow morphs into frenzied joy." (Mark Fischer, Journal Sentinel Online, Milwaukee)

Mary Bridget Davies singing "Mercedes Benz."
"It features not just one remarkable performance, that of Mary Bridget Davies, looking uncannily like Joplin and producing a version of the Joplin screech that starts somewhere around the singer's ankles, wends its way up into the back of her throat and shoots off into the farthest reaches of Arena's Kreeger Theater. The two-hour, 20-minute production also showcases the variety of vocal gifts of Sabrina Elayne Carten, who materializes as some of the blues greats Joplin here claims as inspirations: Bessie Smith, Odetta, Nina Simone, Etta James." (Peter Marks, Washington Post, D.C.)

Joplin on The Dick Cavett Show just two months before she died.
"It's not just that Davies evokes rather than imitates Joplin, theatrically nailing her essence, which achieves full bas-relief with "Piece of My Heart" midway through Set 1. As the evening progresses through unforced philosophizing, personal memories and the songs devotees cherish, Davies channels Joplin outright, her "Cry Baby," "Me and Bobby McGee" and "Ball and Chain" merely the most hair-raising examples of the phenomenon. " (David C. Nichols, Los Angeles Times, CA)
An Amazing Night in the Theatre
Broadway group tickets to see Mary Bridget Davies in A Night with Janis Joplin are available through All Tickets Broadway group sales agents. A Night with Janis Joplin is a collage of sorts, offering insights into the performer through her character, observations, vocal interpretations, letters and the performances of those who inspired her. It's created a lot of excitement over the past two years across the country and now it comes to the Imperial Theatre on Broadway. Call us at 1-800-922-0716 for tickets and more information.