Broadway groups for the new musical Finding Neverland can save even more off the single full ticket price by ordering by January 12, 2015. After that date, you'll still get solid group discounts for this new Broadway musical, but with the Early Bird Special you'll save from $10 to $20 more on the regular group discount price and up to $45 on the single ticket price. This is a generous deal that can save you hundreds.
The Story of Finding Neverland
The musical Finding Neverland is an enchanting and beautiful tale about how playwright J.M Barrie discovered his inspiration for his play Peter Pan. Peter Pan would become a huge hit for the playwright, and would eventually be turned into the musical version, which has played worldwide since the 1950s, and it would also inspire many other plays, musicals, films, and books.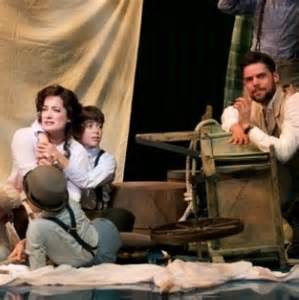 In Finding Neverland, Barrie is desperate; he has to create another hit play. But he cannot seem to find an idea. Down and out and desperately in search of a subject for the stage, Barrie has a chance encounter with a widow and her children. That meeting in a London park leads to the development of a friendship and relationship with the family that revives Barrie's spirit and his career. The family gives Barrie the insight, inspiration, and vision to change his life.
Inspired by the 2004 film of the same title, Finding Neverland is an enchanting, energetic, and inspiring musical that looks to be a Broadway hit.
From ART
Finding Neverland was first produced in the United States at the American Repertory Theatre (ART) in Cambridge, MA. The most recent Broadway shows to come from ART are the award-winning revivals of Pippin and The Glass Menagerie. This production of Neverland premiered in the summer of 2014. Prior to that the musical was produced in England in 2012.
The Broadway production of the new musical Finding Neverland, which features a book by Alan Knee, music by Gary Barlow, and lyrics by Michael Korie, is slated to open at the Lunt-Fontanne Theatre the on April 8, 2015. This promises to be a high action musical that takes audiences of all ages on an amazing journey.
Find Peter Pan with ATI
You can purchase Early Bird Special group tickets with All Tickets Inc. up until January 12th. After that ATI will be happy to take your ticket order for seats at the regular group prices. Group prices start as low as $40 per ticket and group minimums are set at 12. Save up to 40% with the Early Bird price and 35% at the regular group price.
Of course, you'll save even more through All Tickets Inc. if you book additional experiences and events with us. Hotels, restaurants, museums, tours of NYC, and much more are all available through All Tickets Inc. For more information on Finding Neverland and everything NY call us at 1-800-922-0716 or click here to connect with us on the Internet.