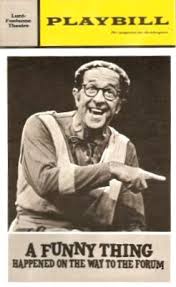 It's a given that the Broadway group discounts (and COMP promos for groups) from All Tickets Inc. make seeing a musical or play a lot more affordable. Along with affordability, there are other positives about going with a group to a Broadway show. Depending on the adventure you plan for your group that visit to NYC may include dining, an overnight stay, enjoying a special tour of a show or a theatre class and some of the wonderful, exciting sites and experiences that are unique to New York and the surrounding area.
A Different Sort of Memory
I still remember taking the bus with the Thespian Club into NYC to see my first Broadway shows. It was an exciting experience in many ways as I sat in the mezzanine and saw my first-ever Broadway musical, "A Funny Thing Happened on the Way to the Forum." It was the first revival and it starred Phil Silvers, Larry Blyden and Carl Ballantine.
It would have been great if I had gone with my family but getting the chance to see that Broadway musical with the other members of the club, the actors and technicians, was extra special. We were all into theatre and simply excited to be there. Some of us were also musicians, singers and dancers and the entire Broadway musical experience brought together all of these elements into a matinee performance that was funny, engaging and thoroughly entertaining.
Oooops!
Life theatre is…well..live. When you're young, you are so frightened of making a mistake on stage, especially of "going up" (forgetting a line). There we were, 9th through 12th graders from the high school drama club watching the best of the best on Broadway and what happens but a mistake. It was the talk of the group, mainly because none of us thought mistakes happened on Broadway.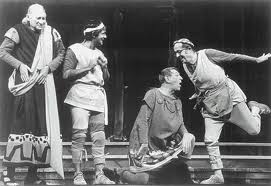 It was simple a simple error but definitely recognizable. At one point Phil Silvers (Pseudolus) and Marcus Lycus (Carl Ballantine) have a purse they a struggling with. The bit involves Pseudolus eventually getting the small bag of money. Instead, as the bit proceeded, Balantine let go of the bag and it flew out of Silvers' grasp going about eight feet stage right. It landed downstage near the edge of the small apron. Both men looked at the bag for a moment and for a split second, they looked perplexed. Then Silvers crossed to the bad, picked it up and kept the scene moving.
It was no big deal in the course of the run of a show. In fact, it probably didn't even make it into the stage manager's performance report. But the Thespian Club talked about it a lot, secure now in the fact that, yes, Broadway stars were, like us, human after all.
Group Bonding
Going to a Broadway show and enjoying the break that group discounts offer is one piece of the experience. But the other part is the group bonding that can happen. Sometimes it's something very simple that creates that bond, like two veteran actors letting a little bag of coins control them rather than them controlling the bag. But whatever it is chances are it will be memorable and such memories can last a lifetime.
Student, educator and camp groups qualify for 1 comp for every 25 paid (up to 4 comps for 100 paid) on select shows and tour groups receive 1 comp for every 30 paid (up to 4 comps for 120 paid). This free ticket offer for groups, which ends April 30, 2013, is from All Tickets Inc. only. Call All Tickets Inc. at 1-800-922-0716 to book your memorable group experience.