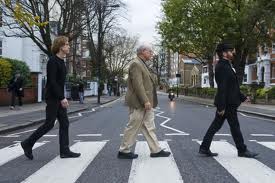 Grammy winners Dave Stewart and Glen Ballard and Oscar winner Bruce Joel Rubin were captured on video in exclusive interviews by All Tickets Inc. In developing our unique study guide for Ghost The Musical, many of those who brought Ghost The Musical to the stage took some time out from their very busy day to answer our questions for the study guides.
Over 170 video clips associated with the guides can be accessed on our Vimeo channel. There are a lot of amazing, informative observations by actors, designers, composers, writers, producers, the director and many more. In this blog we're offering connections to three clips that are especially revealing and entertaining and one, which includes Dave Stewart, is quite funny.
Dave Stewart's Grand Moment Interrupted
Dave Stewart, who with Annie Lennox made up the Eurhymics, has sold more than 100 million albums and was selected as one of the 100 Most Creative People in Business by Fast Company Magazine. Stewart is a truly gifted writer and composer, an amazing musician and creative in innumerable ways.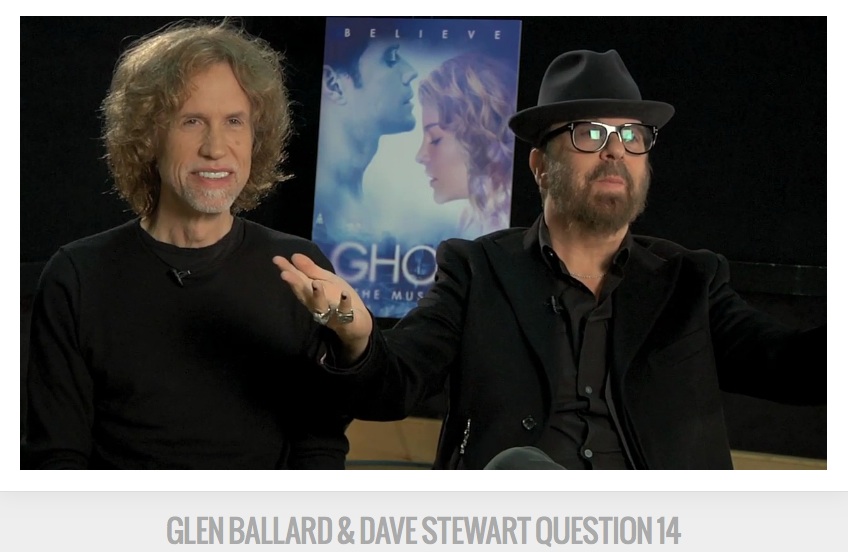 Check out this video link as he, along with fellow composer/lyricist Glen Ballard, gives advice on working in theatre and music. A little over a minute into his answer, Dave is interrupted by the entrance of Bruce Joel Rubin, the writer, and makes some wonderful comic moments out of it. By the way, both he and Glen also give very good advice on the business.
Glen Ballard Riffing a New Tune
Prior to interviewing Glen and Dave for the video section of the Ghost The Musical study guide, All Tickets inquired about the new song that had recently been added to the musical. "You Gotta Let Go" had replaced "Ball of Wax," which was in the original London production. "Ball of Wax" had been discussed widely in our study guide and now with it being out we asked Glen for some insights into the new song.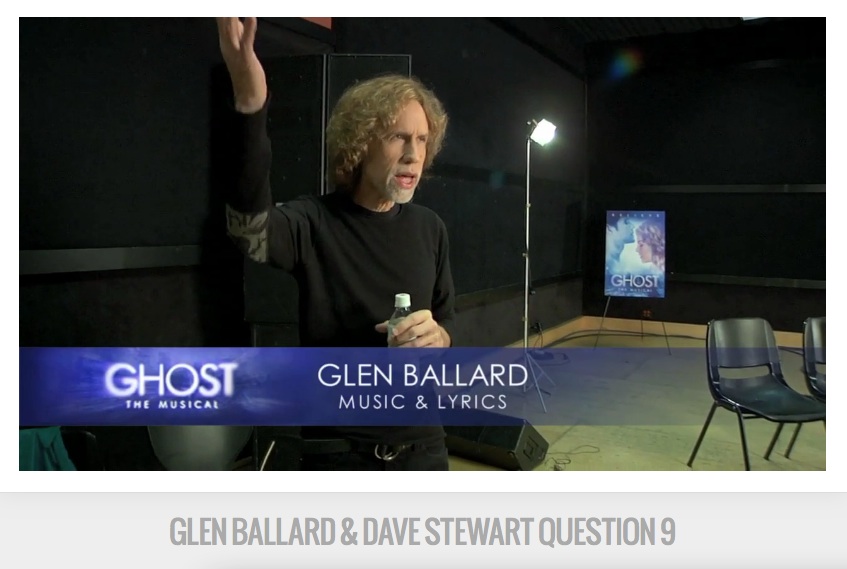 First he asked if there was a piano in the studio. There was not one. So he instantly decided to riff the number and explain its importance as he went along. With that the camera started rolling. It's a great spontaneous moment by a producer/songwriter who has sold more than 150 million records worldwide and has worked with the finest singers and artists in the business. These include Aretha Franklin, Van Halen, Aerosmith and Michael Jackson.
By the way, Glen also co-wrote and produced Alanis Morissette's multi-platinum album Jagged Little Pill (33 million worldwide, four Grammys -including Album of the Year). It was named Best Album of the Decade (1990s) by Billboard magazine. Catch his enlightening performance and interpretation of "You Gotta Let Go" here.
Bruce Joel Rubin on Revenge
Bruce Joel Rubin, who along with winning the Oscar for writing the film Ghost, also wrote Jacob's Ladder, The Time Traveller's Wife, My Life and Deep Impact, offered numerous insights into the script for Ghost the film and the musical.
He offered some information as to how he came up with the revenge theme in Ghost, revealing that a masterful writer like Bruce can get some very good ideas from another masterful writer. Here's this wonderful clip.
The Making of Ghost The Musical
If you want the inside scoop on how a West End and Broadway show as complicated as Ghost The Musical gets made, then be sure to access our two study guides—the Ghost The Musical Student and Teacher Study Guide and Career Connections in the Theatre Study Guide. Both are free and will allow you to link to the over 150 great video clips on Vimeo that are a part of these works.
For sensational group discounts on Broadway shows, including special Comp Promotions, Combo Deals and Additional Volume Discounts, please contact <a href="https://www.allticketsinc.com/contact_us.htm" title="All Tickets Inc contact us" target="_blank">All Tickets Inc. on the Internet or call us at 800-922-0716. Also, see us on Twitter where we announce special deals and offer inside scoops and Pinterest where you'll find out about great Broadway shows to see and much more. All Tickets Inc. offers you THE TOTAL NEW YORK EXPERIENCE each and every day.