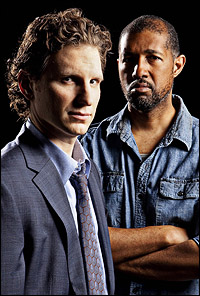 Be sure to contact our Broadway group sales agents for tickets to A Time to Kill, the new play based on the Grisham novel. Broadway group tickets for A Time to Kill are on sale with the show scheduled to preview September 28, 2013 and open on October 20. The drama, which will play at the John Golden Theatre, received a production at Washington's Arena Stage this past May.
Best Seller and Hit Movie
A Time to Kill (1989) was a best-selling novel and Grisham's first. Along with The Firm (1991) and other books, they made Grisham, an attorney, a hugely successful writer as his numerous legal thrillers went on to sell over 250 million copies world-wide. The movie, which had an all-star cast that included Matthew McConaughey, Samuel L. Jackson, Sandra Bullock and Kevin Spacey, The movie earned $108 million and Jackson won the Golden Globe for Best Supporting Actor.
The Story
A Time to Kills offers a story to which Broadway group ticket buyers are drawn. The drama focuses on Carl Lee Hailey, a black man in Mississippi who takes the law into his own hands when his 10-year-old daughter is sexually assaulted and beaten by two white men. Fearing that the two men will not be punished, Carl kills them. He's arrested and his case becomes a cause célèbre, dividing the community and drawing the attention of the nation.
One trial for murder, Carl is defended by the young, idealistic lawyer Jake Brigance (Sebastian Arcelus, whose Broadway credits include Elf and Jersey Boys). Jake must take on the ruthless and battle tested DA, Rufus Buckley, while being attacked by groups from both sides of the racially divided region. Racism, justice, crimes of violence and equality are just a few of the seminal issues dealt with in A Time to Kill.
Other cast members include Broadway's Erin Davie (Grey Gardens, A Little Night Music) as Jake's wife, Carla; Dion Graham (Marcus Gardley's On the Levee at Lincoln Center) as defendant Carl and Brennan Brown (The Persians and Pinter's The Celebration Off-Broadway) as the D.A.
Rupert Holmes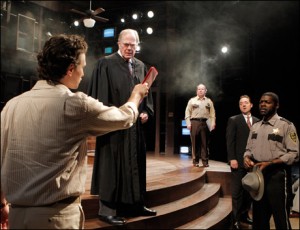 Rupert Holmes, who in 1979 became famous for his hit song "Escape" ("The Pina Colada Song") and went on to create the Tony-winning musical The Mystery of Edwin Drood as well as Say Goodnight, Gracie and Remember WENN, has written the dramatic adaptation of Grisham's novel.
In an interview, Holmes noted, "In adapting A Time to Kill for the stage, it's a great privilege to work alongside his characters, and an absolute rush to live in this landscape, amid the summer steam and barbeque smoke of the Deep South that Grisham knows so well. We've tried to corral the emotions and events of his sweeping novel into and around the Ford County courthouse where so much of the novel's action occurs. And we hope the end result will be a new theatrical courtroom drama that explores issues as volatile and complex today as when John Grisham penned his very first page."
Group Ticket Sales
Group discount tickets for A Time to Kill are available through All Tickets group sales agents and group comps for schools purchasing tickets are now available. (Note: the complimentary ticket promotion is time sensitive. Orders must be in by the last day of July.) School groups will certainly be interested in this drama, which provides them with plenty of important issues to discuss. Contact All Tickets Inc. for group discount tickets to A Time to Kill.