On Broadway

Off-Broadway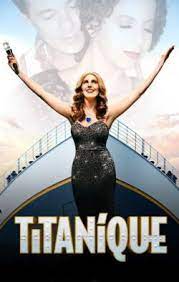 Show InformationPerformance Begins: September 25, 2022 Duration: 90mins. No Intermission

Group InformationGroup Minimum: 8




CAST

Celine Dion: Marla Mindelle Rose: Alex Ellis Jack: Constantine Rousouli Victor Garber/Luigi: Frankie Grande Cal: John Riddle The Iceberg: Jaye Alexander Molly Brown: Kathy Deitch Ruth: Ryan Duncan Ensemble: Courtney Basset Ensemble: Donnie Hammond Ensemble: Dimitri Moise

CREATIVE STAFF

SYNOPSIS

Our story begins when Céline Dion hijacks a Titanic Museum tour and enchants the audience with her totally wild take, recharting the course of Titanic's beloved moments and characters with her iconic song catalog. Featuring powerhouse voices and show-stopping numbers (plus, contemporary pop culture and punchy odes to the 90s film), Titanique is a one-of-a-kind musical voyage bursting with nostalgia and heart. See you aboard the Ship of Dreams, girlfriends!