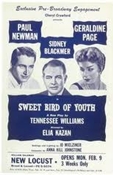 Broadway is abuzz with the news that Tennessee Williams' drama Sweet Bird of Youth, which premiered on Broadway in 1959 with Paul Newman and Geraldine Page in the lead roles, will be revived in 2011. The revival, which is said to be directed by David Cromer, is set to feature film stars James Franco and Nicole Kidman.
 Synopsis
For gigolo, drifter and Hollywood wannabe Chance Wayne life is looking promising. He's become close pals with aging film actress Alexandra Del Lago (aka Princess Kosmonopolis), who he hopes will help him break into the movies. Plus, he's returned home to St. Cloud, Mississippi, to rekindle his romance with his former love, Heavenly Finley, whose father, Tom Boss Finely, ran Chance out of town years ago.
Sweet Bird of Youth is about reviving dreams, making amends and capturing true love. It is about rediscovering those youthful energies that once gave us hope and made us whole. But it is also about corruption, unbridled sex and desperation. Lyrical, brutal, frank and passionate, the play intertwines an amalgam of energies that lead in irretrievable loss.
Bold, poetic and openly honest, Sweet Bird of Youth exposes both the tender soul and corrupt mind.
Written by Tennessee Williams