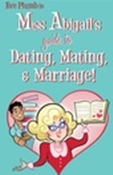 THIS SHOW IS CLOSED
What is it like to be a modern-day relationship guru? Miss Abigail knows first-hand as she takes phone calls from around the world giving advice to the rich and famous and the neurotic and infamous. With her personal assistant and confidant, Paco, she is always ready to offer insight into people's immensely complex personal lives.
Synopsis
Based on the advice book by Abigail Grotke, Miss Abigail's Guide to Dating, Mating and Marriage is a charming play about a woman who is always ready to dispense invaluable insights into a person's most intimate affairs.  With her personal assistant and aid, Paco, always prepared to help her, Miss Abigail offers advice that is culled from her personal experience and from books about romance and love from the Medieval period on.
Funny, insightful and always with an opinion, the self-made expert on dating, mating and marriage is a joy to watch. Her telephone hotline handles calls from celebrities needing to make peace, jettison their domestic partner or discover their soul mate. No matter what a caller's dilemma may entail—falling in or out of love, desiring another or wanting to mend a broken heart, Miss Abigail has an answer.
Miss Abigail's Guide to Dating, Mating and Marriage is a relaxed, 90-minute evening in the theatre. This is a fine play for those who want to have fun, engage in some audience participation and laugh about love and life. If you don't want to participate in the show, you won't have to as long as you don't sit in the ab aisle seat. Those who do actively engage Miss Abigail may get the opportunity to play the truly unique game show entitled Love, Lust or Stalking?
If you are looking for answers then you've come to the right place– Miss Abigail's Guide to Dating, Mating and Marriage. You'll laugh the night away.
Show Facts
Written by Ken Davenport and Sarah Saltzberg
Ditector Ken Davenport
Cast
Miss Abigail Eve Plumb
Paco Manuel Herrera