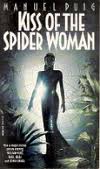 Manuel Puig's novel Kiss of the Spider Woman, which is directed by Peter DuBois, is coming to Broadway in a new adaptation by Academy Award nominee Jose Rivera and Allan Baker. The novel, which has been adapted five times for film and has been a successful Broadway musical, focuses on the relationship between two prisoners in a Buenos Aires prison.
Synopsis
Kiss of The Spider Woman will be back on Broadway once again in spring 2012. This is the riveting story of two men who are prisoners in a brutal Buenos Aires prison. Luis Molina is an effeminate homosexual cross-dresser serving time for the corruption of a minor. Valentín Arregui is a political prisoner who is involved in a revolutionary group devoted to over throwing the government. He longs to get out of prison, free of torture and to his compatriots and to the love of his live, Marta.
The two men are total opposites. But over time, they begin to form a close friendship. However, Molina is secretly getting information from Arregui regarding his covert activities. During the course of the story, the two men develop a romance and Molina decides to help Arregui.
Paroled for helping the government, Molina carries a message from Arregui to his compatriots. However, the government is following the unsuspecting Molina and he is killed in a shoot out. Arregui remains in prison, being tortured and dreaming of being reunited with his beloved Marta.
Show Facts
Adapted by Jose Rivera and Allan Baker
Director Peter DuBois
Preview Date Spring 2012
Opening Date Spring 2012
Handicap Accessibility
Hearing Impaired Audibility
Setting Capacity
Running Time, w/ Intermissions (none or 1)
Show Links, On Line Toolboxes, etc.
Awards
Educational Link