The new musical First Date comes to Broadway after a successful Off-Broadway run. This is a hilarious look at that always nerve wracking and sometimes fulfilling ritual of that initial public meeting between a man and woman. First Date is a winning musical that proves that opposites do attract.
Synopsis
Aaron, an uptight guy, gets set up to be with the ultimate cool girl, Casey. It's supposed to be a quick drink, but that one drink turns into an evening that takes a hilarious look at the dating scene. It's about neurosis, impulse, fear, passion and much more. Of course the complexities of life, including Google background checks, fake emergency phone calls, many bad boy and uptown girl exes, and some sexy chemistry, are all a part of the picture. Is this a mismatch made in heaven or a dating disaster?
A LOOK AT FIRST DATE IN REHEARSAL FOR OFF-BROADWAY
MAKE A CONNECTION
ATI Blog: Get great group deals on First Date and other Broadway musicals.
Pinterest: Our Great Broadway Shows to See board has wonderful musicals and plays featured.
ATI Facebook: Get the latest news on All Tickets Inc. via Facebook.
SHOW FACTS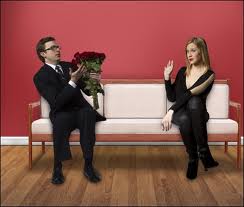 Cast
TBA
Creative
Music and Lyrics: Alan Zachary and Michael Weiner
Book: Austin Winsberg
Director: Bill Berry
Choreographer: Josh Rhodes
Set Designer: David Gallo
Costume Designer: David C. Woolard
Lighting Designer: Mike Baldassari
Sound Designer: Kai Harada
For a Theatre Profile, Seating Chart and Google Map click on the theatre name.
The Longacre Theatre
220 West 48th Street
New York, NY 10036
Preview: Jun. 3, 2013 Open: Aug. 8, 2013 Status: Closed Jan 5, 2013