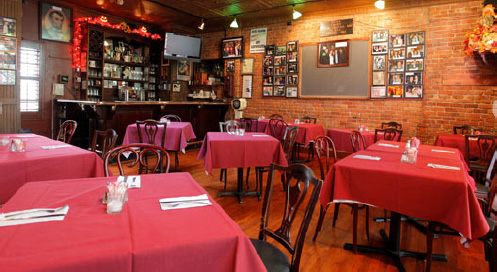 Pete's Tavern, located near Gramercy Park, was established in 1864 and is the oldest continuously operating bar and restaurant in New York City. A trip to Pete's Tavern means a trip back in time. This 19th century establishment, which owes part of its legend to the famed author O. Henry, has been seen in innumerable movies and on various TV shows. Its diverse and long history aside, what differentiates Pete's Tavern from so many other dining establishments is its fine Italian-American cuisine. Many consider it to be the best in Manhattan.
For groups, this restaurant is a real find. The menu has been refined to offer theater and tour groups various choices, among them some of their finest dishes. Appetizers are mouthwatering and include lightly breaded Fried Calamari, finely spiced Clams Oregenata and savory Stuffed Mushrooms.
The dinner menu offers a wonderful Seared Shell Steak with Wine Sauce served with potato and vegetables. The Veal Cutlet Parmigiana served with Pasta is sweetly tender. Groups have numerous choices regarding drinks and desserts.
The service, food and ambiance are all as good and as genuine as they can get. Weather permitting, Pete's also offers sidewalk seating. Pete's Tavern is an authentic New York gem.