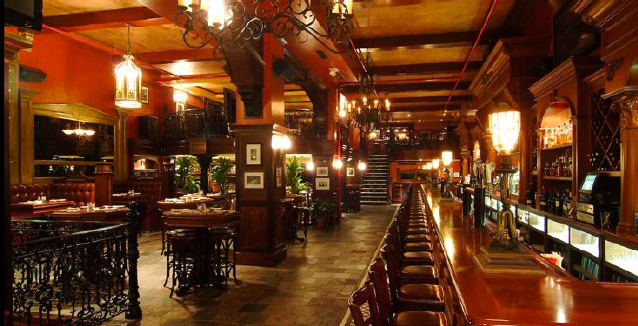 This is a multi-level sports-focused restaurant that embraces its athletic theme thoroughly. Deep wood tones, plenty of big screen TVs and nicely appointed tables and booths are all a part of this casual restaurant's atmosphere. There's always some sporting event being broadcast at Legends whether it's being played in the U.S. or in another part of the world.
Legends offers a Student Tour Lunch Menu that includes mixed green salad and student favorites such as hamburgers and cheeseburgers, fish and chips, and macaroni and cheese. Fries or mashed potatoes are included as is a dessert of vanilla ice cream. Soft drinks are served with lunch.
The dinner menu offers three entrées: Grilled Breast of Chicken with Sautéed Vegetables and Pan Gravy; Broiled Sole Filet with Saffron Rice and Lemon Butter Sauce and Pasta Primavera with Garden Vegetables in a Parmesan Cream Sauce. All include salad, dessert and sodas, coffee or tea.
Legends is a happening sports eatery with lots of room and great service for groups interested in a casual dining experience. There's a special lunch menu for students and plenty of sportsrelated memorabilia to enhance the atmosphere.