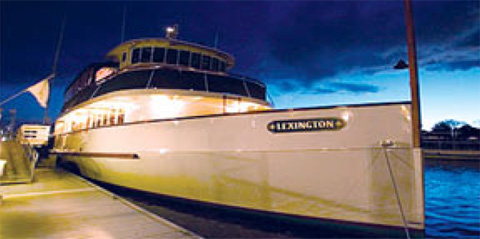 Enjoy a wonderful Lexington Yacht Cruise that includes a 3+ hour excursion, a perfectly prepared meal, engaging entertainment and beautiful sites. The Lexington is a classically styled yacht with brilliantly polished wood handrails, a fine mahogany dining room and carefully crafted teak decks. These features and the canopy-covered bridge deck will bring you back to the era of the great yachts—the 1920s. Yet, it is a totally modern yacht that includes all conveniences.
Groups can savor amazing food while enjoying a lovely cruise. A special buffet can be prepared specifically for your group that includes various stations. Groups of 60 or more may choose seven hors d'oeuvres from a list of close to twodozen. Choices include Shrimp and Mango Salsa in Tortilla cup, Traditional Pizza Triangles with your choice of topping and Lemon Marinated Lamb Kabobs with Cilantro Yogurt Sauce.
To further customize your meal, select one entrée from the carve station, a side dish, one entrée from the ethnic station and one dessert. Coffee and tea are included. The carving station option can be chosen from six different meats, including Grilled Marinated Flank Steak, Honey Apricot Glazed Ham and Cajun Roasted Turkey with Creole Gravy. The ethnic station includes Asian, Italian and Mexican dishes, while sides are amazingly creative.
If your group desires an upscale, adventurous PLEASE INQUIRE There are many cruise and meal options. Various schedules apply during certain times of the year. Pricing varies by locations, time of year, meal options, music, night cruise, etc. dining experience that can be tailored to your group in just about any manner, then the sophisticated excursions offered by Lexington Yacht Cruise are a fine choice.