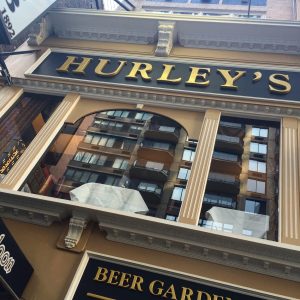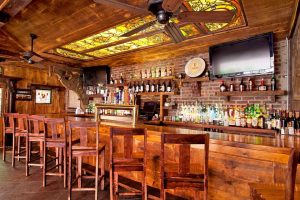 Hurley's has a century-long history of being a bastion for New York's hungry theatergoers. Beautiful, dark hardwoods, richly upholstered furniture and elegantly detailed wall coverings define this establishment's tasteful interior. Groups are welcome at this restaurant that has a long-standing tradition of ensuring patrons make their curtain time.
Lunch and dinner menus are diverse and satisfying. Appetizers include French Onion Soup, Lobster Bisque and Beefsteak Tomato with Fresh Mozzarella and Basil. If you're in the mood for Thai food, you won't be disappointed by the beautifully prepared entrée of Thai Chicken with spicy sesame noodles, field greens and Thai peanut dressing. The Beer Battered Cod Sandwich is sweetly fresh and tender, and the restaurant's Sirloin Steak Sandwich with mushrooms, onions and cheese on French bread with fries is a true signature favorite. The dinner menu includes three exceptional dishes: Grilled Red Snapper, Chicken Marsala and Shrimp Scampi with garlic sauce. At meal's end, indulge one of three rich desserts: Midnight Chocolate Mousse Cake, Tollhouse Cookie Pie or New York Cheesecake.
This NYC historical landmark, in the heart of the Theatre District, has been serving food to theatre goers and visitors to New York since 1892. Hurley's is steeped in the type of tradition that defines great New York restaurants.