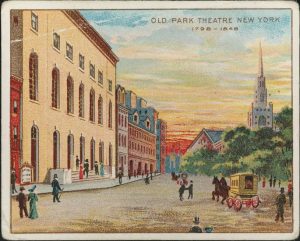 Information on NYC theatrical activity from the late-18th century to the present can be found here. Original documents and important facts can be found in the Theater Collection holdings of the John Golden Archive, which consists of 40,000 folders with information on productions, personalities, and performance spaces.
HOLDINGS INCLUDE:
17,000 folders documenting Broadway and Off-Broadway productions since the 1800s.
Original set and costume renderings by designers such as Alvin Colt, Miles White, Donald Oenslager, and Lucinda Ballard.
Posters and window cards that document trends in theatrical advertising.
Original scripts by Eugene O'Neill.
A large collection of George M. Cohan's annotated scripts and original Orchestrations.
Personal papers of Mary Martin, Howard Dietz, Julia Marlowe, and E. H. Sothern.
Over 3,500 caricatures, drawings, and prints.
Popular entertainment collections on Burlesque, Circus, Minstrelsy, and Vaudeville.