Take Your Group on a Guided Tour of an NYC Neighborhood
All Tickets Inc., the leader in Broadway group discounts and comps, offers tours of NYC by fully licensed, trained, and experienced multilingual tour guides. Add a tour at a group discount rate to your itinerary to enrich your NYC adventure. Along with expert guides, our group sales agents will book your group on a comfortable, well-equipped bus. Double-decker buses, open-top buses, climate-controlled single-deckers, and specialty buses are available.
Times Square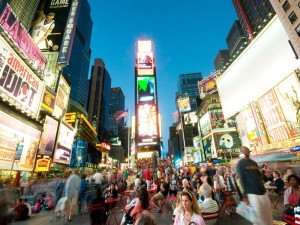 The extreme hustle and bustle of Times Square seem to pulse through all of Manhattan. Here you'll see the magnificent signage, ads, and marketing campaigns; the glitz of the theatre; and the entire spectacle of what is the central artery of the City while discovering the inside scoop on what's behind all the show and bravado of Times Square. The man credited with creating the modern Broadway theatre, George M. Cohan, is honored by a statue situated in this busy neighborhood.
Harlem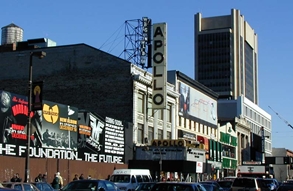 With a rich artistic and cultural heritage and a diverse history, Harlem is popular with group tours. New trends in drama, art and music are part of present-day Harlem and also a major aspect of its history. Discover the groundbreaking Apollo Theatre, the historic site of the Cotton Club and the Studio Museum of Harlem. Journey to what was the center of NYC's jazz and blues and the genesis of the Harlem Renaissance.
Wall Street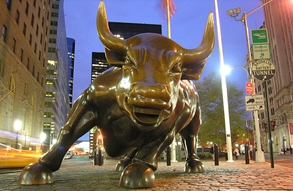 The financial center of the world is located in Wall Street. The NY Stock Exchange, Federal Hall (the original site of our national government) and Trinity Church are all a part of this informative tour of one of the busiest financial districts on Earth. See Trump Towers and other symbols to the massive fortunes made and lost on Wall Street.
Central Park
Over 25 million people visit the 800-acre park every year. It beckons to those who want to get away from it all. Central Park is an homage to beauty, as over 4 million forms of plant life representing 1,500 species may be found in this oasis of nature, art and human engineering. Enjoy the history, splendor and uniqueness of Central Park.
Other Tours
Other exciting NYC neighborhoods await you, including The High Line, Chinatown, Greenwich Village, and Washington Heights. All Tickets can also help you create a customized tour for your group. To get started, you may want to utilize our directories of sites and attractions or simply call us at 1-800-922-0716 with your ideas and/or itinerary. For more information on each of the NYC neighborhoods covered on our guided tours follow this link. Get to know NYC through some of the best tour guides on Manhattan. See NYC in a whole new light