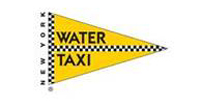 Seeing New York from the deck of one of New York Water Taxis offers visitors a unique experience that one will not forget. Dazzling vistas of the iconic New York City and New Jersey skylines and intimate views of celebrated infrastructure and monuments unfold as the taxis ply the waters of the Hudson, the East River, and the bay.
New York Water Taxi offers sightseeing tours, private charter events, and water borne transportation for the tourist and resident alike. Take a guided tour or go at your own pace.A Hop-On/Hop-Off tour allows you to hop on and off as many times as you like at any one of four convenient piers. Have a blast exploring! Just a few of the many sites to visit are the Financial District/Wall Street, South Street Seaport, Brooklyn Bridge Park, Times Square/Broadway, the Museum of the American Indian, and the Intrepid Sea, Air, and Space Museum.
Your Hop-On/Hop-Off Harbor Cruise can be coordinated with a visit to the 9/11 Memorial. In addition, the cruise offers stunning views of the Statue of Liberty, the Empire State Building, Governors Island and the Brooklyn Bridge.
Whether tourist or resident, New York Taxi offers new vistas and new insights to complete your total New York experience.

width="100%" height="350″ zoom="12″ maptype="roadmap" mapalign="center" directionhint="false" language="default" poweredby="false" maptypecontrol="true" pancontrol="true" zoomcontrol="true" scalecontrol="true" streetviewcontrol="true" scrollwheelcontrol="false" draggable="true" tiltfourtyfive="false" addmarkermashupbubble="false" addmarkermashupbubble="false" addmarkerlist="700 West 44th Street, New York, NY{}_water-taxi.png{}New York Water Taxi|190 Christopher Street, York, NY{}_water-taxi.png{}New York Water Taxi Christopher Street, Pier 45|75 Battery Place new york{}_water-taxi.png{}New York Water Taxi|89 South Street, New York, NY{}_water-taxi.png{}New York Water Taxi|26 New Dock Street, New York, NY{}_water-taxi.png{}New York Water Taxi|11 Bush Terminal Yard New York, New York{}_water-taxi.png{}New York Water Taxi|1 Beard St, Brooklyn, NY{}_water-taxi.png{}New York Water Taxi|499 East 34th Street New York{}_water-taxi.png{}New York Water Taxi|Randalls Island New York, NY{}_water-taxi.png{}New York Water Taxi" bubbleautopan="true" showbike="false" showtraffic="false" showpanoramio="false"]