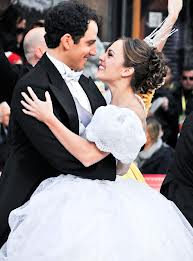 All Tickets Inc., the Broadway group discount specialist, is offering another great COMP Promo. We've actually launched TWO new COMP Promos. One COMP Promo is for student, educator and camp groups and the other for tour groups. These are the best deals anywhere you're going to get on selected new Broadway shows.
The COMP Deals
Student, educator and camp groups buying discount tickets to select Broadway shows get 1 free ticket for every 25 paid. These groups can receive up to 4 comps per show per performance. This is our best deal. Tour groups purchasing Broadway tickets can also get comps. That offer provides 1 free ticket for every 30 paid. Again, tour groups can receive up to 4 comps per show per performance.
We're offering groups that focus on education and kids a little more of an edge. One reason for this is the fact that All Tickets Inc. is extremely interested and devoted to ensuring that the next generation of theatregoers can afford to go to a Broadway show. It's important to that generation and to Broadway that the connection is made and that these groups have the opportunity to see what is the very best of live theatre in America.
The Shows
Seven Broadway shows are included in both special comp promos from All Tickets Inc. These are some of the newest and hottest shows. They include "Motown the Musical," the story of Berry Gordie, Jr., the man who started Motown; and "Kinky Boots," the new musical based on the movie of the same name. "Kinky Boots" is written by Cyndi Lauper and Harvey Fierstein.
Also included are the musicals "Annie," "Matilda," and "Cinderella." These three musicals, all of which feature females as heroes, are extremely popular, bringing in a range of groups. Plus, we've included Holland Taylor's winning one-woman show, "Ann," which is about Texas politician Ann Richards, and Christopher Durang's new comedy, "Vanya and Sonia and Masha and Spike." Durang's crazy comedy stars Sigourney Weaver and David Hyde Pierce.
Time-Limited Offer
Both COMP Promos are time-limited offers and both are available through All Tickets Inc. only. To take advantage of them you must make your booking by April 30, 2013. You may buy tickets for any date but the tickets must be confirmed by the last day of April. For more information or to get started on seeing an exciting Broadway show for as little as $32 a ticket and, at the same time, score your comps contact All Tickets Inc. at 1-800-922-0716.