Colin Quinn: Unconstitutional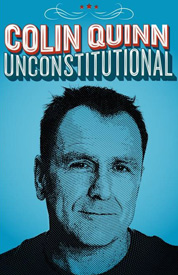 In Unconstitutional, Comedian Colin considers the visions of our founding fathers and what the country they formed has become. Is this really what they had hoped for? Wry, insightful, cutting and sarcastic, it's a new show by Colin Quinn.
Synopsis
Colin Quinn's latest one-man show, Unconstitutional, examines everything from predator drones to the Kardashians as he wonders exactly how we got to where we are as a nation? It was on May 25th, 1787, that fifty-five delegates in wigs and tights sat down to create the United States of America from virtually nothing. Find out how we're doing in Colin Quinn's Unconstitutional.
Show Facts
Cast
Performer Colin Quinn
Creative
Written by Colin Quinn
Director Rebecca Trent
Set Designer James Fauvell
Costume Designer Alexis Forte
Lighting Designer Sarah Lurie
Venue
Manhattan Theatre Club
131 West 55th Street
New York, NY
Preview: May 3, 2013 Open: May 16, 2013 Status: Open