Cirque du Soleil Totem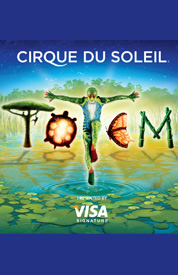 In Totem, Cirque du Soleil investigates humankind's evolution from the amphibian state to their dreams of flying. In a stunning, masterful vision that combines imagery, theatricality, music and refined acrobatics, Cirque du Soleil provides a show that captures our imaginations while mining the depths of our subconscious mythology.
Synopsis
Cirque du Soleil redefines our past, present and future in their latest show Totem. What do the symbols of our creation tell us, how do they define us and how can we investigate them to understand our history as creatures of this earth? Totem is a tale told through movement, imagery, music and pure theatricality, combing science, myth and the purity of motion.
Show Facts
Creative
Founder and Creative Guide Guy Laliberté
Artistic Guide Gilles Ste-Croix
Writer and Director Robert Lepage
Director of Creation Neilson Vignola
Set and Prop Designer Carl Fillion
Costume Designer Kym Barrett
Composer and Musical Director Bob & Bill
Choreographer Jeff Hall
Lighting Designer Etienne Boucher
Sound Designer Jacques Boucher
Acrobatic Equipment and Rigging Designer Pierre Masse
Acrobatic Performance Designer Florence Pot
Venue
Citi Field
126-01 Roosevelt Av
New York, NY 11368
Preview: Mar. 14, 2013 Open:        Status: Closed, May 12, 2013