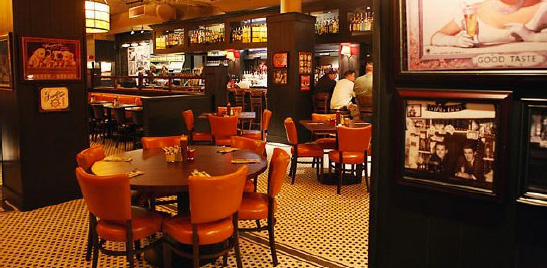 You'll feel welcome and at home at H B Burger for this restaurant is very different from the other "fast food" burger joints. The relaxed atmosphere, delicious food and dedicated service make this an American favorite. If your group is looking for burgers, salads and fries, then this is the perfect place. Student groups will love this restaurant.
Try the tasty Southern Fried Pickle Spears and HB Buffalo Chips with Buffalo Ranch Dip. Hearty and nicely spiced Harland Nachos will take your taste buds to another place. Entrées include a hefty turkey burger, perfectly dressed Caesar chicken salad and penne pasta with marinara. Their French fries are fresh cut and use only Idaho potatoes. Succulent and flavorful, H B Burger's Heap of Onion Straws is as special as it gets when it comes to side dishes.
The restaurant offers a complete line of homemade sodas and their key lime pie is a simply wonderful dessert concoction.
H B Burger is a great place for fast, satisfying dining. If you are looking for a restaurant that offers traditional American food with some very nice twists, take your tour or theatre group to H B Burger.