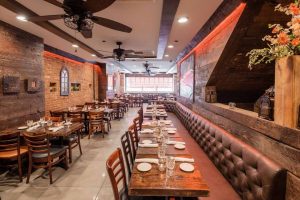 Walking through the doors of Daniela Ristorante, guests will be struck by the red tablecloths overlaid with white linen, a two-tired dining room and soothingly light yellow walls decorated with tasteful paintings. The setting is relaxing, the service is impeccable…and the food is fresh!
The group menu includes either a three- or fourcourse dinner. The three-course dining menu offers the soup of the day or a house salad, various entrées and dessert.
The four-course menu includes numerous appetizers such as sweet Fried Calamari, hearty Portabello Balsamico and premium Hot Antipasto. For the second course choose from one of three authentic pastas. The third course offers four different entrées including the restaurant's unique Salmon Daniela's. Save room to enjoy the fourth course of cheesecake, tiramisu or cannolis.
For those who want their New York experience to include special moments of food, friends and fine times, this is the perfect spot. With an Italian menu that is sublime, Daniela Ristorante is certain to please every member of your group.