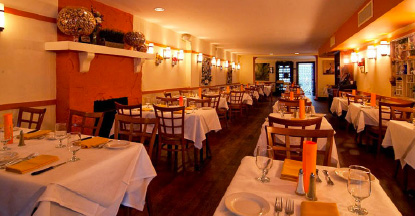 At Brazil Brazil Grill you'll find the decor simple, subtle, and tasteful…and the food wonderfully diverse. The restaurant accommodates groups including those comprised primarily of students.
There's a tapas menu that includes steak, mussels and shrimp. Tapas come three to a plate and are served with Brazilian rice and black beans.
The dinner menu includes Pan Roasted Salmon Filet in a Lemon Butter Reduction and Chicken Bossa Nova Pan Roasted with White Wine, Garlic and Mushroom Reduction. A house salad, dessert and drink are all included.
Brazil, Brazil Grill caters to groups on their way to the theatre, coming from a matinée or on an outing. The authentic Latin dishes are the highlight of this restaurant, which serves Caipirinha , the national drink of Brazil. Enjoy some light dining via the Tapas