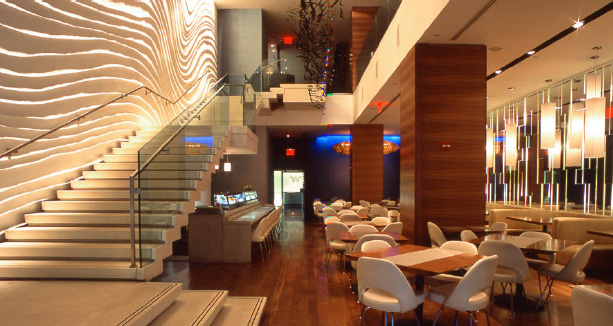 The Blue Fin Seafood and Sushi Restaurant welcomes groups with a wonderful before or after theatre menu. Using nature as a grounding force, the beautiful setting includes a textured, wave-inspired grand wall along a rising staircase, deep wood-toned columns and floors, and subtly resonant ambient lighting. Both booths and tables are available.
Elegantly designed and comfortably appointed, this Times Square restaurant offers a delectable menu that features unique starters such as Maine Lobster and Shrimp Bisque, Jalapeno Spicy Tuna Roll and Yellowtail Roll. Among the delicious entrées are Blue Cheese Crusted Filet Mignon, Florida Red Snapper and Ginger Crispy Skin Scottish Salmon. Steak Fries, Petite Portobello Mushrooms and Lo Mein Noodles are all on the menu. End your dining experience with some of their decadent desserts, which include Chocolate Graham Cracker S'mores, Butterscotch Crème Brulee and Red Velvet Cheesecake.
The Blue Fin Seafood and Sushi Restaurant, located in the heart of Times Square, is convenient and comfortable. The friendly, professional wait staff will ensure your dinner is served efficiently and in a timely manner, allowing you to easily make your curtain or engage in your next activity. Your group will find there's plenty to enjoy on the diverse menu of this delightful New York eatery.