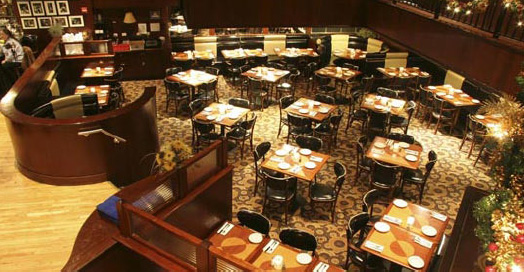 B.B. King Blues Club and Grill, conveniently located in the heart of Times Square, is a great place for groups on their way to the theatre or about to tour the town.
There is music every night at 8 p.m. This active blues club presents various artists, including Jim Messina, Vanilla Fudge, George Clinton, Air Supply, Roomful of Blues and B.B. King (of course). The joint certainly is jumping at night.
Sunday brunch includes the live sounds of the world-famous Harlem Gospel Choir.
Lucille's Grill, separate from the club, serves great food and drink. This is a wonderful place to take your group for lunch or a pre-theatre dinner. Groups may order from a menu that includes a special Cornmeal Crusted Catfish. If you're not into catfish, there's always the Char Grilled Burger or Traditional Baked Ziti. Something light? Try the Classic Caesar Salad. The pre-theatre menu includes a magnificent dessert—Mississippi Mud Pie with fresh whipped cream and chocolate sauce.
The location, club atmosphere and wonderful food make the B.B. King Blues Club and Grill a perfect destination for groups.