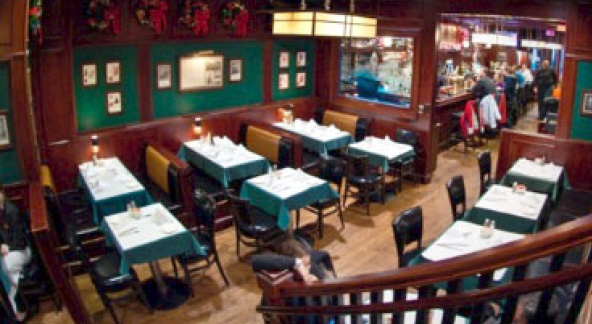 Celebrating 35 years in business, this Irishthemed restaurant is a favorite with groups. O'Casey's Irish Bar and Restaurant immediately welcomes guests with its green and white awning. The interior features dark woods, deep green walls and tablecloths and white linen napkins. The setting is warm and welcoming.
The food is hearty and varied. Your group can enjoy breakfast, lunch or dinner at this bar and restaurant. Eggs, bagels, fresh fruit and more await you in the morning.
For lunch or dinner, groups have two different menus from which to choose. Menu 1's selections include their Corned Beef Sandwich and the signature O'Casey's Hamburger. All the lunch or dinner choices on Menu 1 include fries, coleslaw and pickle along with a dessert and beverage.
Menu 2 offers three different dinners. Enjoy their tasty Broiled Filet of Salmon with sun-dried tomato and capers or a perfectly prepared Grilled Sirloin Steak. There's also O'Casey's finely Sautéed Chicken Breast with julienne vegetables. The soup of the day or garden salad plus dessert and beverage come with all items on Menu 2.
The atmosphere is always convivial at O'Casey's and the service always grand. You're sure to feel at home.