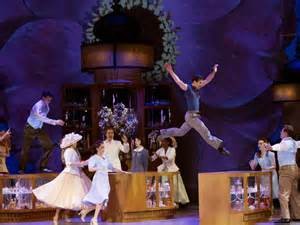 An American in Paris, which is based on the Gene Kelley film of the same name, is a major hit for a major reason. Those creating the piece dedicated themselves to taking an iconic and truly artistic film and turning into a stage musical that is unique and different from the film, but that still has many of the same hallmarks. They did not make the mistake of trying to recreate the greatness of the film, they made the wise decision of taking core elements and creating a piece that uses the magnificent power of live performance and utilizes a 21st century perspective.
The Reviews
The reviews are in and they are terrific! Here's a sampling.
"It's been years—decades, really—since I last saw production numbers that were infused with the kind of rich, sustained creativity that Mr. Wheeldon gives us throughout "An American in Paris." This is what musical-comedy dance can look like when it's made by a choreographer who knows how to do more than just stage a song. Once you've seen it, you'll know what you've been missing, and find it hard ever again to settle for less." Wall Street Journal
"Guiding his first musical, [Chrisptopher] Wheeldon shows a vibrant vision and buckets of imagination, transforming the 1951 Gene Kelly-Leslie Caron film that inspires the show. He's also got a cast and design team at the top of their game." NY Daily News
"The city of light is ablaze with movement in the rhapsodic new stage adaptation of "An American in Paris" that opened at the Palace Theater on Sunday, directed and choreographed by Christopher Wheeldon, a gifted luminary of the ballet world. This gorgeously danced — and just plain gorgeous — production pays loving tribute to the 1951 movie, to the marriage of music and movement, and to cherished notions about romance that have been a defining element of the American musical theater practically since its inception." NY Times
Book, Music and Lyrics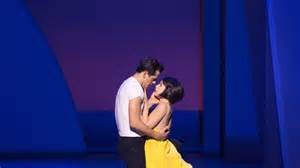 Craig Lucas has done a rewrite of the Alan Jay Lerner film script, keeping the wit, romance, and verve, and adding grit and substance, making an American in Paris as musical comedy that is fuller and deeper than it celluloid counterpart.
The music and lyrics, by George and Ira Gershwin, are as good as any get. With tunes that include "I've Got Rhythm," "Our Love is Here to Stay," and "S' Wonderful," and the syncopated-jazz-classically-styled American in Paris theme and various musical elements that underscore this production, American in Paris is everything that makes the music on the American musical great.
Masterful Choreography and Direction
Christopher Wheeldon, director and choreographer with London's Royal Ballet, is the artistic visionary who has brought An American in Paris to the stage. His name is now being freely mentioned in the same company as Robbins and Fosse. This is a stellar production due to his imagination, attention to detail, and diverse talents.
Tickets Now!
Tony time is here and you can expect An American in Paris to have its share on nominations and wins. This is a stunning show in everyway. We have not mentioned the wonderful performances, which includes Robert Fairchild, principal with the NY City Ballet, dancing, singing and, yes, acting, his way into everyone's heart. London's Leanne Cope, who plays opposite Fairchild, is a pixie-like powerful and beautiful presence.
Contact All Tickets today at 1-800-922-0716 for Broadway group discount tickets to what is a major hit.