Broadway Up Close Walking Tour
Various wonderful touring experiences are available through Broadway Up Close. Their original tour, which was created five years ago, takes you along The Great White Way where your group will discover exciting and interesting facts about Broadway theatres, artists, producers, and personalities. The tour travels from the southern end of the Broadway theatre district on 41st street to 45th street in between 6th and 8th avenues. Highlights include the rise and fall of 42nd Street, Roof Top Gardens, and hauntingly interesting ghost stories. Plus, each knowledgeable guide offers his/her own personal stories about Broadway. Each tour guide is equipped with an iPad chock full of one- of-a-kind photos and videos to further enrich your experience.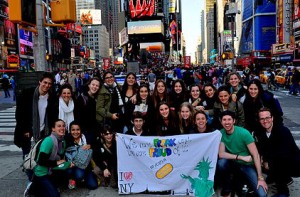 Plus, Broadway Up Close offers Private Tours, including one that gets you up close and personal with the Broadway experience. This is a perfect addition for those who will be attending a Broadway performance. This touring experience starts with their Private Tour around Broadway that Broadway Up Close is so famous for and includes a 45-minute sit down lunch or dinner with a performer from a show your group will be seeing that night. Your meal will include an appetizer, soda and an iconic pie from John's Pizzeria.