Bright Star: Steve Martin on the Blue Ridge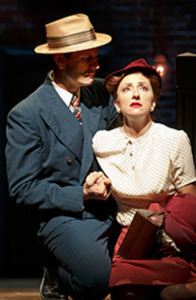 When I heard there was a new musical premiering on Broadway this year about the depression in the Blue Ridge Mountains, my first thought was: The Waltons. the Musical? Expecting to hear of the wholesome 7-child family with a sassy grandma and their dog Reckless, I was surprised to learn that the story is not that but that the book was written by Steve Martin! Written as a collaborative piece between Martin and Edie Brickell, Bright Star tells the story of "Billy Cane, a young soldier just home from World War II who meets Alice Murphy, the brilliant editor of a southern literary journal. Together they discover a powerful secret that alters their lives. Tony Award-winning director Walter Bobbie makes his Globe debut with this entertaining musical of enduring love, family ties, and the light of forgiveness that shines from a bright star."
Steve Martin Fans Flocking?
One of the most interesting elements of this production besides the fact that it has a "winsome country and bluegrass score", songs that "are treated with lovely, lucid orchestrations", and "a skeletal A-frame cottage that moves as nimbly as any of the performers", is Steve Martin's persona in connection to the production. He is known for so many creative skills as a musician, novelist, art collector, actor, and comedian, that seeing him in this new light causes audiences to say, "Wait..like THE Steve Martin? What doesn't that guy do?" It might be interesting to take a poll and see if his stardom in different areas of the arts brings on new Broadway audience members!
Maybe Not the Brightest Star… Yet
Critics have given this show reviews already since it opened at The Old Globe Theatre in San Diego last September. Critiques were curious about the treatment of the climax and the reveals of the show's surprising secrets in the coming Broadway production. Variety was particularly harsh last year in their critique saying: "Songs aside, characterizations are distinctly undercooked. Guileless Billy seems untouched by wartime service, too callow to craft greeting cards let alone the "sweeping tale of pain and redemption" Alice unaccountably expects of him. Meanwhile, she must be the least rebellious hellion the Blue Ridge ever saw, with a preacher dad (Stephen Lee Anderson) as fundamentalist-strict as a marshmallow. The dialogue keeps alluding to hardscrabble existence and emotional damage, but the tone at the Murphy cabin is sheer "Brady Bunch." Like my initial wonder about the placement of The Waltons in this tale, Variety seems to have found them. Their belief that the story needs to be more rooted in pain and redemption is evident with Variety as well as The New York Times. The critiques want more connection to the characters to in turn be more connected to the time and place of the production.
Opens March 24th!
You can currently see previews for this show and it will open March 24th at the Cort Theatre. Find out if the kinks were worked out the production this winter and let us know at the All Tickets Facebook Page!